Sale: Bondhus Set for Home or Office
Bondhus Hex Keys or sometimes people refer to them as Bondhus Allen Keys should be a staple in your home or office. These versatile tools can help you put together the new furniture (Ikea), office chair, toys, router insert bits and lots of other things that require a nice range of hex keys.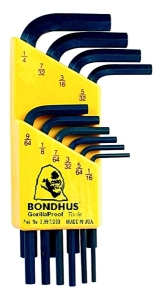 There are several Bondhus sets to choose from, but my favorite set is the 10pc Bondhus 12238. I find that this particular set seems to hold the most common sizes that are universally handy for everyone.This 10pc set is offered at the lowest price you will find!
I know you can find hex keys anywhere for any price, but, I find that Bondhus is unique in their quality. Bondhus tools have long been known for their vastly superior quality, strength, durability, and resistance to rust and corrosion.  Made of ProTanium High Torque Steel, Bondhus Hex Keys are up to 20% stronger and more durable than other grades of steel.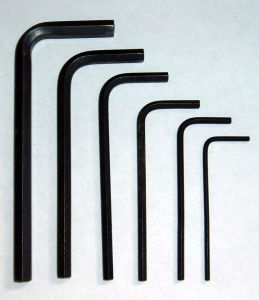 Bondhus L-Keys are machined in the USA to tolerances that are the toughest in the industry and have aLifetime Guarantee. Click Here to view or download the Bondhus Technical Resource Manual for more information on how these L-keys are manufactured and tested.
Here is a handy chart :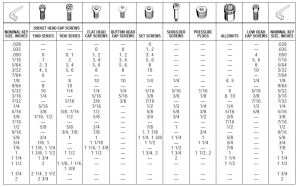 Tags: Bondhus, furniture, Home and Office