Some Exciting Things are Happening…
The AWFS, Exciting new tools, and some small changes that will make finding the right tool even easier…  
We are in the process of adding some really unique new hand tools.  These New tools are High quality, German made tools comparible to Wiha quality, but with more innovative and versatile functions.  We are very excited to be able to add these to our product line.  Check back soon to see when these will be available.  Here is a sneak peak at one of the new products we will be adding: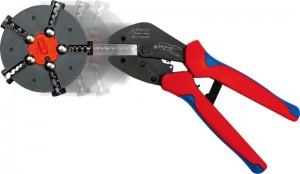 This crimp tool is specially designed for 5 different application areas. The tool has a quick change system for up to 5 different Die Sets. The excellent handling, easy exchange of the crimping insert bits are facts in favor of these crimping pliers.
Made in Germany
I'll also be announcing updates about these new tools in our next newsletter and on our Facebook page.  If you haven't already, like us on Facebook to get updates and to hear about special promotions.
We are also making some small changes to our website that should make finding the right tool even easier.  Soon you will be able to narrow your product search by specific attributes of the tool you are looking for.  I'll have an update about when this new search feature launches soon.
Last but not least… The AWFS!
We are very excited to be attending the AWFS this year in Vegas.  Our main goal…  To bring you more choices for quality hand tools and woodworking tools.  We are excited to see what kind of new and unique tools we can find and see about bringing on some new product lines.   Are there any new product lines or tools that you would like to be able to shop for on our site?  Let us know.  We love to hear your feedback.