Popcorn Carbide
Popcorn carbide- this was a really neat affect caused by a great amount of heat over an unknown period of time (but I'd guess it to be a fairly long time).  This piece of carbide was actually once a carbide tip that fell of the belt in our brazing oven.  This little carbide tip spent quite a bit of time next to the heating element.  The carbide tip was laying on the bottom next to the tubular heater.  The oven runs at about 1500 F.  We are not sure how long it was there, or how hot the tip acutally got.  It could have been there for days.
The "popcorn carbide tip" originally looked like the carbide tip pictured below it.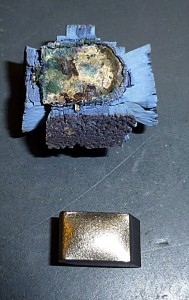 There maybe something educational to take from this, or it might just be a really cool  picture.  Personally, I find it really interesting how the carbide tip comes apart.  It really demonstrates how much the carbide tip was pressed and shrunk during the sintering.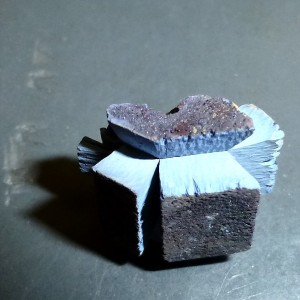 I would guess that the blue is cobalt oxide.  You can see various oxides from the silver/copper, zinc / nickel braze alloy.  The surface is pretty rough, but the weight seems to be about the same.  The overheating has made the tip pretty brittle.
Tags: carbide tip