Backyard Hero- Assembly Tools for Backyard Play-sets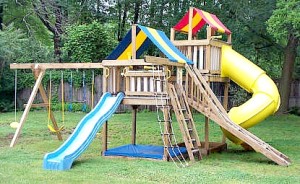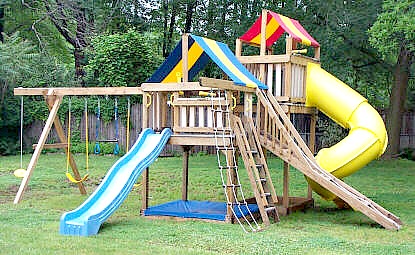 Now that Spring is finally upon us most of us our looking at our ever growing to-do-lists! We can finally start to tackle those out-door projects we have been neglecting for so long. And, if you have children or grandchildren, chances are a backyard play-set might be on the top of that list.
Even the mention of "backyard play-set" can strike fear into the most experienced of engineers. Think long hot hours of hunting missing parts, quick trips to the hardware store/neighbors/friends for tools, screws etc., reading an encyclopedia sized "booklet" of directions and organizing all 500+ pieces that will ultimately complete your expensive contribution to the children you love.
Well don't worry anymore! Here are some tips & tricks that will help you put together your shrine of love in the least amount of time possible.
Tools, Tools, Tools
Make sure you have quality tools that will get the job done quickly and make your life easier. An impact driver will come in handy for all the 100's of screws that are needed to put the play-set together not to mention some play-sets do not come with pre-drilled pieces! The Triton T20ID has a long battery life & delivers up to 2400 RPMS of driving speed. Fitted with 1/4″ hex quick release bit holder allows you to make rapid single-handed bit changes effortlessly.
Impact drivers should be used with good impact bits. The Wiha 7pc Bit Buddy Set will come in handy for all jobs, large and small. Well known for their German quality, Wiha terminator impact bits will deliver 30x the life span of regular screwdriver bits. The Wiha 76892 includes seven of the most wanted sizes: phillips #2, #3,  square #2, #3 & torx T20, T25 & T30 impact bits.
Be ready with good drill bits that won't break! Save time and money with our made in the USA Triumph drill bits.  Available in a wide range of applications, you can find the right size for wood, glass, masonry and tile. Buy one or be cautious and have a few on hand ready to go by purchasing a Triumph drill bit set.
Locate, Organize, Proceed
Keep it simple, keep it organized and get done faster. Spending hours in the back yard looking for screw #23 for piece # A is frustrating at best. The best advice I have to alleviate the "treasure hunt" is to put everything in order. Put all the hardware, boards & rails in numerical order in one particular place that is easy to see, and easy to reach. Make sure the impact driver is charged & ready to go as well as any other hand tools required. More importantly, when the inevitable frustration hits, think of all the laughter & hours of fun the children will have from all your hard work. You will be the hero that will get warm, sweaty hugs and lots of sloppy kisses.
Tags: backyard play-sets, woodworking
One Response to "Backyard Hero- Assembly Tools for Backyard Play-sets"