Filtration Systems and Supplies
Would you buy a new car or truck and never change it's oil?  If you did change it's oil, would you drive it without changing the filter?  Filtering your machine coolant can improve quality of work in the shop, create a safer work environment, and reduce damage to equipment. Think of it as an insurance plan: it requires monthly attention (regular maintenance) but in the end, pays in $$$$$ (quality work).
To give you an idea of how dirty filters and cartridges can get after use, look at this side-by-side comparison!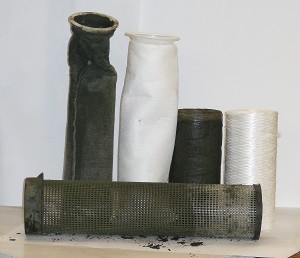 Here is another example of how well these filter units work, you can easily see all the debris that fell out of the filter bag as I set it up next to a clean one. Filtering prevents these particles from damaging tools and equipment. It also saves a great deal of waste by drastically reducing the number of coolant changes and helps reduce the growth of bacteria.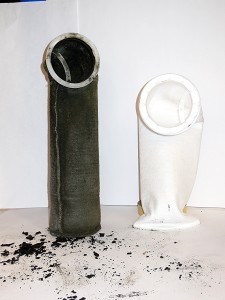 I took these pictures yesterday using our work-table where we do the assembly of the filter units we sell on our webpage. Oh, you didn't know that? Yes, with Tom's assistance, us 3 ladies assemble, package and ship direct to you within 2 weeks of your order date. We follow exact specifications so every unit is assembled with the utmost care and accuracy! Here are a couple of units that we assemble-
The first picture is of a Wall Mount for Straight Oil with 20″ canisters; the second is a Wall Mount for Water Based or Straight Oils, with 10″ canisters; the last picture is of a Complete unit for Water or Oil based with a Coolant Pump. We have several for you to choose from, or we'll develop a custom solution tailored specifically to your needs. Just let us know and we would be happy to supply you with a filter system, or supplies, to fit your needs.
Tags: coolant filtration, filter units, filtration supplies, fitration unit, machine coolant filter system