Setting Up Your Shop- Choosing Your Space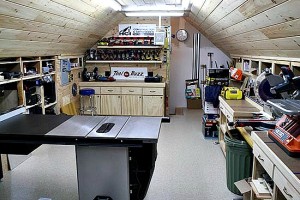 Attic Shop
Woodworking virtually demands its own space. The materials needed are bulky and the necessary power tools are fairly big. And since most projects are completed over a period of days, weeks and months (maybe even years), they'll need a place to reside.
Without doubt, the best shop is a large, separate building with plumbing & heat. However, establishing and maintaining such a shop requires money and space that most people don't have. So look for realistic alternatives that you can afford.
Another important consideration should be taken for those around you! Not everyone enjoys the sound of noisy tools that generate a lot of dust. Confining the mess and noise to a dedicated area will make everyone happier, including you.
The two most common shop locations are the basement and garage. Other dedicated spaces have been spare rooms , attics & even closed-in porches.
Basement Shop                                                                     Garage Shop
Their are some important factors to keep in mind when assessing potential shop areas, or considering upgrading or remodeling your current shop.
Space needs: You'll want to have enough space to maneuver full-size sheet goods and boards that are 8 feet or longer. Ideally this means a large enough area that you can feed large stock into a stationary tool with enough clearance on the infeed & the outfeed side.
Access: Convenience is key! You'll need a convenient entry/exit point so you can carry materials into the shop & take completed projects out.
Power: You should never run more than one tool at a time (except a tool & a shop vac or dust collector). Nevertheless, you'll need several accessible outlets.
Light: Adequate light is essential for doing careful, comfortable, accurate & safe work. You'll need a good overall light (a combination of natural & artificial light sources is best) as well as some movable lighting.
Ventilation: To help exhaust dust and fumes, you need a source of fresh air & dust collection. Depending on where you live, year-round shop use will likely require a means of heating and cooling.
Take a few chances to see what works well for you, your family & neighbors. Don't forget, the more pleasant & comfortable your shop is, the more likely it is you will spend time in it.