Tenryu Plastic Cutting Saw Blade- Cool Customer Video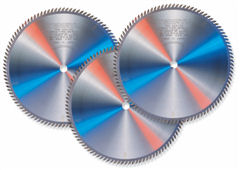 We had a wonderful customer the other day in a panic! It was late in the day, and he needed a Tenryu plastic cutting saw blade-PRP-255120AB3 shipped Next Day Air to North Carolina. Our normal cut-off time for shipping is 2pm Eastern Standard time. It was after 2:30 when Whitney received his call. He needed this blade ASAP due to an issue with production and they had no back-ups!
I immediately called the Tenryu warehouse in Kentucky to see what we could do while Whitney processed his information. Without hesitation Tenryu said they would personally drop off the blade to UPS to make sure our customer would be able to receive his blade the next day. Their UPS driver had already stopped by earlier for their pick-up.
It is moments like this we are reminded and thankful for the manufactures that we work with. Tenryu is an excellent example of a manufacture who makes superior saw blades but also reflects our own business motto: The customer is always first.
Tenryu saw blades are known for their quality, super fine cuts and the price isn't to bad either. Tenryu uses only modern, advanced grades of carbide which provides smoother faster cuts but also up to 10x that of ordinary carbide saw tips. The ATF grind is perfect for more brittle materials like plastic and acrylic. The resin filled expansion slots act as built-in dampeners keeping your cuts quiet!
The customer was so happy he promised to send us a video showing how he uses the Tenryu PRP-255120AB3 on his robots, and gave us permission to use it.