What are the best CNC router bits
I recently came across a great article in Woodshop News.  The article discussed how important tool selection and feed and speed rates are to the final router bit performance when using a CNC router.  So, how do you select the best CNC router bit?  There are actually quite a few things to consider when choosing the best router bit.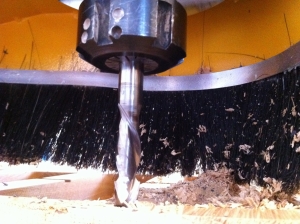 Material being cut is a crucial factor when selecting a CNC router bit, but consideration for the router bits spindle type and horsepower, type of work-holding system, and the construction quality of the machine's base and gantry also needs to be taken into account.  In this article we will be talking mostly about tool selection and different types of CNC Router bits.
When choosing a bit for a CNC router, there is one tip that will always help to ensure you get better performance.  Choose an industrial quality bit.  They may cost more upfront, but you are truly getting a bargain.  Router bits intended for industrial application are engineered to give you optimal performance.  They are made with better materials, and high-quality carbide.  They have increased clearance geometry, better design, and razor sharp cutting edges right out of the box.  We recommend Vortex CNC router bits.
There are different types of CNC router bits with different configurations that make them an ideal router bit for cutting plywood, mdf or melamine.  For cutting MDF or chipboard, Straight plunge bits are a great choice.  They have either 1,2 or 3 flutes that run parallel to the shaft of the router bit that allow you to cut MDF and chipboard at higher speeds. Spiral bits are another great bit for cutting MDF, plywood, melamine and solid wood.

There are several different types of spiral router bits, including upcut spiral, downcut spiral, and compression spiral bits. Downcut spiral bits come in confiurations with varying numbers of flutes.  The most common are typically 2 and 3 flute designs.  Downcut spiral bits do exactly as their names states- they cut downward into the material.  This allows them to leave a clean and splinter free edge, but it also wears out the bit quicker due to poor material ejection.  The removed material tends to get pushed down into the cut, so that you are cutting new material as well as the removed material which can wear out and dull the bit much quicker.
Upcut spiral bits do just the opposite.  They also come in configurations with varying number of flutes, but they cut up from the material.  This allows for better chip and material ejection which helps reduce wear on the router bit, but leaves the edges of the material more prone to splintering. Compression spiral bits are a combination of upcut spiral bits and downcut spiral bits.  The cutting flutes spiral up from the bottom and down from the top.  This allows for optimal chip evacuation and cleaner cutting edges.  Compression spiral bits are great bits for cutting plywood sheets, laminates ad composites.
Tags: CNC router bits, compression spiral router bits, downcut spiral router bits, spiral router bits, upcut spiral router bits, Vortex router bits