Difference between a cordless drill and an Impact driver
Both cordless drills/drivers and impact drivers can be used for similar jobs, but there are some key differences.  A Cordless drill applies constant torque and tends to have a wide range of uses.  Cordless drills have a keyless chuck that can accept a wide range of tools.  They can be used to drill holes, drive screws and can be used with a great selection of accessories such as hole saws, rotary sanders, and wire-wheel brushes for doing a wide range of jobs.  Drills or drivers are ideal for smaller jobs, as they provide great control across a range of speeds and clutch settings.  They don't have the impacting force that the impact drivers have and are better for drilling small screws or for drilling in softer surfaces.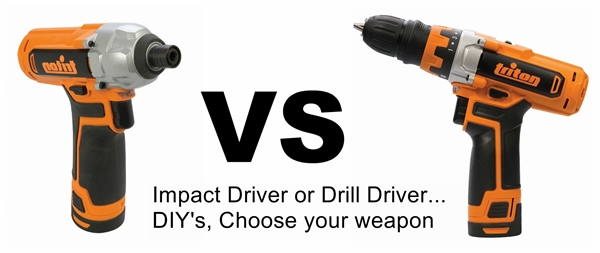 Impact drivers look very similar to drill drivers and do many of the same jobs, but use a hammering like action and brute force to get the job done.  Impact drivers use both bit rotation and concussive blows to drive screws with incredible brute force.  They can be easier to use for large projects or projects that require large screws or drilling into harder surfaces.  The concussive action transfers much of the high-energy torque directly to the screw, taking off some of the stress to your wrist and forearm.  Impact drivers use a collet to accept hex-shanked drivers and bits.  Because of the high concussive force, an impact bit that can withstand the high pressures of the impact drill are typically recommended.
While Impact Drivers can do most of the jobs a drill can do, but faster and with more ease, they don't have quite the versatility that you can get with a drill.  Using a cordless drill for small jobs and pulling out the "big guns" (aka the Impact Driver) for larger jobs or more difficult jobs you can take care of all your DIY jobs in no-time.
Tags: cordless drill, drill driver, impact driver