HTC Tool End Mills and Burs
We are excited to announce a new line of cutting tools to our standard cutting tool line.  With the addition of HTC Tool End Mills, we now have over 23,000 products and are continuing to grow.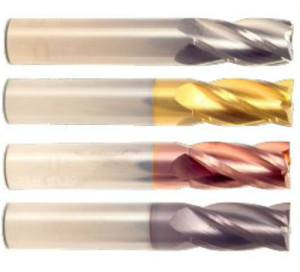 HTC Tool manufactures all of their cutting tools right here in the USA in their own plant in Fraser, MI on State-of-the-art machinery.  They have 170 CNC Machines and have recently acquired 4 new Platit coating machines to meet an increase of demand and supply quality tooling even faster.  With recent addition of buildings, employees and State-of-the-Art Machines, HTC can now produce 28.7% more tools than the previous year, ensuring the tool you need is always ready to ship right to your door.
With their latest expansion, HTC Tool can efficiently coat any tool in your choice of TiN, TiCN-HTC Progressive Coat, AlTiN-HTC HArd Coat, or ZrN, so that you have just the right tool for your specific application.
HTC Tool is opened 6 days a week in order to increase production and to ensure the tool you need is always on the shelf, ready to ship.  All HTC End Mills are made from quality carbide with strict tolerances and manufacturing guidelines to ensure the highest quality and longest tool life.
We're both proud and excited to offer such high quality and American Made End Mills and burs to our line of quality cutting tools.  We are confident that anyone who uses our HTC Tool End Mills will agree that they are quality tools that will get the job done.