New Nut Driver Sets from Bondhus
New Nut Driver Sets from Bondhus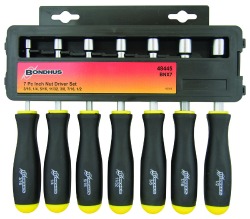 Note: Product price good for 30 days.  Call to ask about current price. 253-476-1338
Bondhus has come  out with a great, small and inexpensive tool set to add to your growing tool collection! They have recently launched their Hollow Shaft NutDriver sets, available in both inch and metric sizes.  These new sets have great features:
Color coded handles to identify inch and metric (inch has yellow handles while metric has red handles)
Rubber grip for added comfort
Hex on the shaft for use with a wrench for added torque
Flats on the handle to prevent rolling off a workbench, counter, or table
Lifetime warranty from Bondhus!
Both of these hollow shaft nut drivers are seven piece sets. The inch set comes in sizes 3/16″ to 1/2″ while the metric nut driver version comes in sizes 6 to 12 mm.  If these new items break or fails to meet your expectations in any way, simply return it and Bondhus will replace it for free.  For the Bondhus Lifetime Warranty, the only proof of purchase necessary is the tool itself, no receipt or invoice is needed to take advantage of the lifetime warranty.
To make this even cooler, we are offering introductory pricing for a limited time on these nut driver sets from Bondhus.  From now until May 31, these bad boys are only $17.50. After May 31, our pricing will go up to $29.17 while the full retail price will go up to $35.00.  So from now until May 31, you can purchase these brand new Hollow Shaft Nut Driver sets from Bondhus for 50% off, you really cannot beat that!
Plus, all customers outside of Washington State can enjoy no sales tax on everything in our store and as always, returning customers, save 5% off their total order!

Tags: Bondhus, driver nut, hollowshaft, metric nut drivers, nut driver