Stainless Steel Tools
Stainless Steel Tools are important to prevent rust contamination on stainless steel parts or fasteners.
Stainless steel tools have been a necessity for many industries that use stainless steel fasteners of parts.  For many years, there was not a process to make the stainless steel hard enough for industrial applications.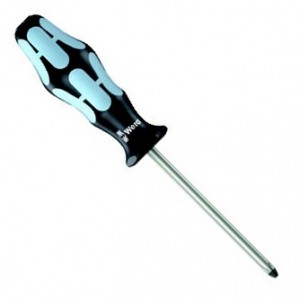 Wera Tools' Innovative Research and Development team have come up with a vacuum ice-hardened process that preserves flexibility while making the stainless steel tools hard enough for industrial applications.  Wera stainless Steel tools are cryogenically hardened at very low temperatures. This preserves flexibility while giving tools optimal hardness and durability.
How Standard Tools contaminate Stainless Steel Parts
Even when sterilized before use, standard chrome-plated carbon steel hand tools can be a large contributing factor to problems with extraneous rust and contamination.  A sterilized carbon steel tool is still a ferrous tool.   When a ferrous hand tool is used with a stainless steel part or fastener, the intense pressure exerted in the screw driving process leaves behind a microscopic trace of carbon steel.  This trace of carbon steel can oxidize and cause extraneous rust, which can lead to serious corrosion if not treated.
You can try to lessen this oxidation by coating the fasteners or treating them with acid, but the only sure way to eliminate this extraneous rust is to use Stainless Steel Tools.
Wera tools has a line of Stainless Steel Tools and offers many sizes and profiles in stainless steel bits, drivers, and hex keys.
Tags: stainless steel tools, wera tools