Wera's Koloss- The Ratchet that can also be used as a hammer
We were pretty impressed with Wera's Koloss when we first came across it.  A ratchet that can safely be used as a hammer, that's pretty innovative.  We are constantly looking for new cool and unique tools to sell in our webstore, and were very happy to see that we are not the only ones that find the Koloss an ingenius tool.   Wera's Koloss was recently featured in DIY Network as one of their Cool Tool picks.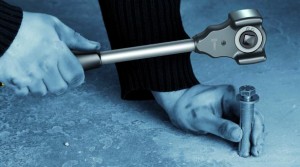 We really try to stress to our tool users to only use tools for the job they are intended for, but we know that this probably wont stop anyone from reaching for their ratchet and using it as a striking tool.  The thing that makes Wera's Koloss so special and unique is it's ability to safely handle any strike or blow without causing any damage to the mechanism. 
The multi-functional Koloss was developed by developed by Wera Tools can be used not only for fastening but also for hammering, striking and aligning without risking any damage to the tool.
Wera had to overcome some obstacles to bring us their Koloss Ratchet.  Wera's Koloss Ratchet has to meet higher quality requirements because of it's combination of acting as a ratchet and hammer.  Since hammering subjects the tool to extremely high forces the hammer head is pinned to the shaft in a form-fit joint to prevent any part of the tool from accidentally becoming detached.  Although designed to be protected during hammering, the square drive, inadvertently left in the drive position, automatically gives way to impacts and therefore cannot be damaged. The zinc phosphate-coated hammer head is drop forged to ensure that the tool can be properly used as a hammer.  The tubular hammer/ratchet shaft is a particularly useful feature because it minimises impact vibrations and protects users against injury.
Tags: Koloss, ratchets, Wera, wera tools