Tool Inspection
Tool inspection
I really think everyone should have a couple of microscopes for tool inspection.
I have been using microscopes for decades and I have gotten a reputation for tool failure analysis. Part of that is investing the money in cameras and microscopes and part is decades of experience.
If you saw the blog post on cutting gypsum board, you can see the difference between 30 power or 30x view and the 200x view. Those were done with the Dino–Lite which cost about 150 bucks online including shipping. I bought the least expensive version and those are the pictures.
I also found a funny little microscope from McMaster Carr that actually works pretty well.  The price was $40. AMcMaster Carr has free overnight shipping and has to pay for it somehow. Looks to me like maybe a $10 or $15 microscope but the quality of the lenses is really, really good and it has a nice bright light source. It is 25 power or 25x which is a pretty good size for looking at tool edges.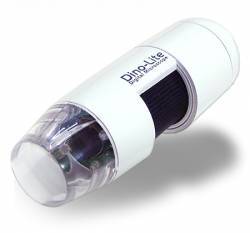 http://www.mcmaster.com/#microscopes/=ce0zbl
These are both excellent investments that can rapidly pay for themselves. What we are doing on the gypsum analysis is working with the saw shop. We did the analysis which convinced the customer to try some custom-built saws with our advanced grade of saw tips called Cermet 2. The end user will get better results, the saw shop will sell custom saws instead of somebody else's saws and we will sell a few saw tips.
Even if you have never done it before, microscopic inspection is pretty easy. When I am using the camera, such as the Dino-lite, I start by just looking around and taking pictures of anything that looks unusual, anything that looks wrong or anything I didn't expect.
If you have any experience at all in the saw and tool business you will rapidly figure things out on your own. Mike Lindsay of Eastside Saw and  Sales in Bellevue came down to visit and see our microscope.   Within minutes Mike was pointing out things I hadn't noticed.
We don't currently sell tool inspection equipment or microscopes but we are thinking about it.  There are two reasons I'm doing the blog post about tool inspection. One if you're tool building customer of ours then you will sell more of our parts if you can do a better job educating your customer. If your customer that buys tools from us then the more you know about tools the better you are going to like ours.
800 346-8274
Tags: exceptional tools, Tool Quality