The Evolution of Triton Tools
Triton Tools was founded by George Lewin in 1975 in Australia.  Frustrated with tools that didn't cut straight or square, Lewin decided to design a tool that would perform better.  His first innovation was a bench with an upside down saw that he patented and successfully sold as the original Triton workstation.
As Tom would say, "the quality of a tool is what the person using the tool says it is".  It seemed to be unanimous among the Australian woodworking community that this new design for a workstation was a quality one.  Woodworkers loved Lewin's innovative Workstation design and demand for Triton Tools grew rapidly.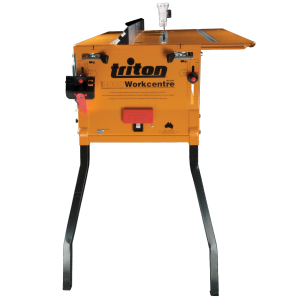 In 1983 the Mark Workcentre was launched in Australia and earned Lewin many awards for his innovative saw-bench.  By 1986 Triton Tools began to find their way to countries all over the world and in 1994 Triton tools achieved ISO 9001 quality accreditation.
Triton Tools continued to expand and meet the demand for more quality tools.  They innovated and expanded their range of tools to include routers, track saws, drills and more.  In 2014 Triton Tools was acquired by Power Box and production was completely overhauled and a U.S. distribution center was created. Even more measures were taken to ensure every Triton Tool that left the factory would be guaranteed to work and last.


All new Triton Tools sold after 2014 have undergone a rigorous quality control and completed the quality management cycle.  New Tools are constantly being innovated and each new design goes through a vigorous critique process before ever being distributed.  New Triton Tool ideas are closely monitored for design, and manufacturing capabilities.  All raw materials that are used in the manufacturing process are audited before the tools are assembled and every tool receives a pre-shipment inspection.  The final step is a tool review and the Triton Tool Reviews are great!  Here are a few things that people are saying about Triton tools:
"The Sander's Strong point is in its design, which means the belt is flush to the side, allowing sanding up to a wall" -Anthony, Triton Tool user
Woodworking Plans and Projects Magazine wrote that "Triton continually push boundaries with their innovation, both for power tools and the Workcentres they fit in."
And a very satisfied TRA001 Triton Router user and ex-furniture builder says he "uses every spare moment  [he has] now knocking something up with this little treasure!"
British Woodworking Magazine boasts about the new Workstation, saying that it's "One of the most eagerly-awaited 'up grades' of a workstation that reflects its original brilliance."
Since it's humble beginnings from a woodworker that simply wanted better tools to work with, the Triton brand has earned a reputation for quality and has continued to expand its line of innovative power tools. See for yourself the quality and ingenuity that Triton Tools have come to be known for.
Tags: router, track saw, Triton Tools, Workcentre, Workstation
2 Responses to "The Evolution of Triton Tools"