The Limited Edition Woodpeckers 640 Square Has Arrived!
The Limited Edition Woodpeckers 640 Square Has Arrived!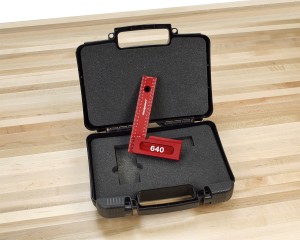 We were elated yesterday when our highly anticipated shipment of Woodpeckers 640 square arrived! From January 12 to January 24 we took pre-orders for a beautifully made to order measuring square from Woodpeckers.  This item was only available through these dates and after the 24th of January, they would not be found again.
There has been a lot of hype surrounding this little new measuring square because of its great features.  This square is made from one solid billet of aircraft grade aluminum.  To add to the uniqueness of this item, these are made to order products; Woodpeckers will only make as many as were sold.   Customers had their choice of the square only or the square with a custom hard shell case, they could also choose to have their square in inches or in metric.
Upon receiving our shipment, the first thing we noticed was the great hard shell case.  We knew it would be cool, but we didn't think it would be this cool! For starters, it has a unique way to open it.  I will admit, I did find it to be a little tricky to open the first time.  It has a tab on each side to pull in order to open and the inside is nicely padded providing a nice cushion for your 640 measuring square.  These cases also have a small hole on each side near the opening tabs for locks if you need or want to ever lock it. Another awesome feature of this made to order measuring square is that the words "Feb. 2011" are imprinted in small print adding to the uniqueness of it being a limited time only tool.
I should mention that  Woodpeckers made this in a a particular order, first the inch models and then the metric models.  The shipment we received yesterday contains only the inch squares that were order.  We went ahead and packaged them all up for everyone yesterday.  We even included a coupon with our orders to take an additional 10% off your next order in our online store and a few little treats as a thank you for your order.  Once we receive the metric squares from Woodpeckers those will also be packaged and shipped immediately.
We are really excited about this great product and we hope that all of our customers who purchased one will too!
Check out our special preview video and see what all the hype is about: Woodpeckers 640 Square
Tags: About Carbide Processors, tools measuring, woodpecker tools