Band Saw Troubleshooting
Common Band Saw problems and how to solve them.  When it comes to learning what works and what doesn't, nothing beats experience.  MK Morse has over 45 years of experience in the Band Saw business.  Over the years they have come across many different problems,  and have discovered  common causes and solutions.  Below are 13 of the most common band saw problems including the cause and how to fix it.   The information and pictures in this article are from the MK Morse catalog.  Get a quote on a Morse Band Saw Blade made to fit your exact specifications.
Problem 1: Premature Band Saw Blade Breakage- Straight break indicates fatigue.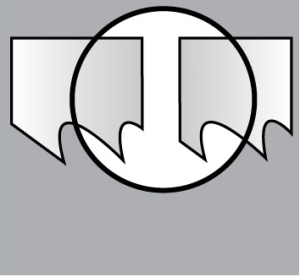 Cause of the problem:
Incorrect band saw blade- teeth too coarse
Blade tension too high
Side guides too tight
Damaged or misadjusted band saw blade guides
Excessive feed
Incorrect cutting fluid
Wheel diameter too small for band saw blade
Band saw blade rubbing on wheel flanges
Teeth in contact with work before starting saw
incorrect blade speed
Solutions:
Use finer tooth pitch
Reduce band saw blade tension
Check side guide clearance
Check all guides for alignment/damage
Reduce feed pressure
Check coolant
Use thinner blade
Adjust wheel alignment
Allow 1/2″ clearance before starting cut
Increase or decrease blade speed.
Problem 2: Premature Dulling of Teeth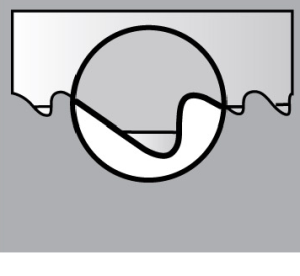 Cause of the Problem:
Teeth pointing in the wrong direction/ band saw blade mounted backwards
Improper or no blade break-in
Hard spots in material
Material work hardened
Improper coolant
Improper coolant concentration
Speed too high
Feed too light
Teeth too small
Solutions:
Install band saw blade correctly.  If teeth are facing the wrong direction, flip blade inside out.
Break in blade properly (maintain proper blade speed for the material being cut).  Reduce blade feed pressure or feed rate by 50% for the first 50 to 100 square inches of material cut.  Gradually increase feed pressure or feed rate after break-in to target proper feed rate.
Check for hardness, or hard spots like scale or flame cut areas
Increase feed pressure or feed rate
Check coolant type and coolant mixture
Check recommended blade speed
Increase feed pressure
Increase tooth size
Problem 3: Inaccurate Cut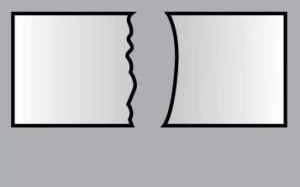 Cause of the Problem:
Tooth set damage
Excessive feed pressure
Improper tooth size
Cutting fluid not applied evenly
Guides worn loose
Insufficient blade tension
Solutions:
Check for worn set on one side of blade
Reduce feed pressure
Check Tooth size chart (Tooth Size chart)
Check coolant nozzles
Tighten or replace guides, check for proper alignment
Adjust to recommended tension
Problem 4: Band Leading in Cut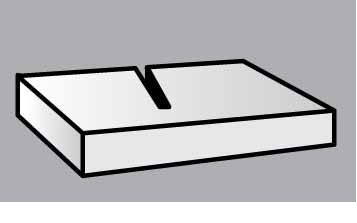 Cause of the Problem:
Over-feed
Insufficient blade tension
Tooth set damage
Guide arms loose or set too far apart
Chips not being cleaned from gullets
Teeth too small
Solutions:
Reduce feed force
Adjust recommended tension
Check material for hard inclusions
Position arms as close to work as possible and tighten
Check chip brush
Increase tooth size
Problem 5: Chip Welding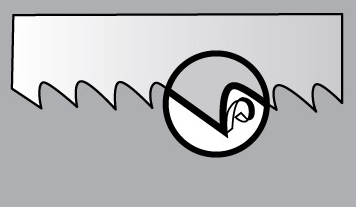 Cause of the Problem:
Insufficient coolant flow
Wrong coolant concentration
Excessive speed and/ or pressure
Tooth size too small
Chip brush not working
Solutions:
Check coolant level and flow
Check coolant ratio
Reduce speed and/or pressure
Use coarse tooth pitch
Repair or replace chip brush
Problem 6: Teeth Fracture- Back of tooth indicates work spinning in clamps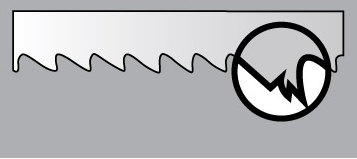 Cause of the Problem:
Incorrect speed and/or feed
Incorrect blade pitch
Saw guides not adjusted properly
Chip brush not working
Work spinning or moving in vise
Solutions:
Check the cutting chart (cutting chart)
Check tooth size chart (tooth size chart)
Adjust or replace saw guides
Repair or replace chip brush
Check bundle configuration/adjust vise pressure
Problem 7: Irregular Break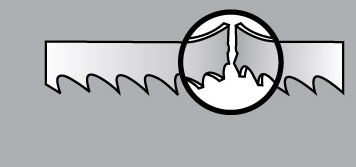 Cause of the Problem:
Indexing out of sequence
Material loose in vice
Solutions:
Check proper machine movement
Check vise or clamp
Problem 8: Teeth Stripping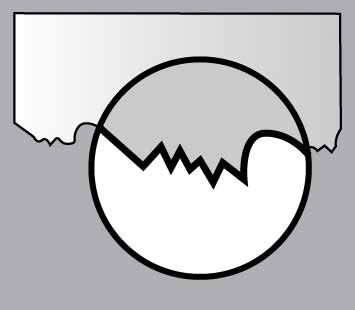 Cause of the Problem:
Feed pressure too high
Tooth stuck in cut
Improper or insufficient coolant
Incorrect tooth size
Hard spots in material
Work spinning in vise- lose nest or bundle
Band saw blade speed too slow
Blade teeth running backwards
Chip brush not working
Solutions:
Reduce feed pressure
Do not enter old cut with a new blade
Check coolant flow and concentration
Check tooth size chart (tooth size chart)
Check material for hard inclusions
Check clamping pressure- be sure work is held firmly
Increase blade speed- see (cutting chart)
Reverse blade (turn inside out)
Repair or replace chip brush
Problem 9: Wear on Back of Band Saw Blades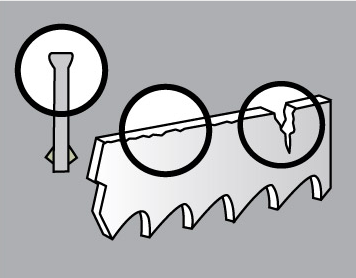 Cause of the Problem:
Excessive feed pressure
Insufficient blade tension
Back-up guide roll frozen, damaged or worn
Band saw blade rubbing on wheel flange
Solutions:
Decrease feed pressure
Increase blade tension and readjust guides
Repair or replace back-up roll or guide
Adjust wheel cant
Problem 10: Rough cut (Washboard surface, Vibration and or chatter)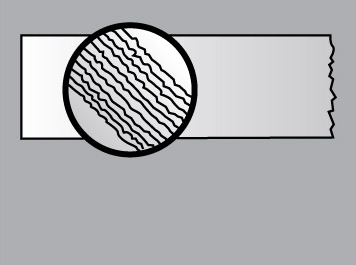 Cause of the Problem:
Dull or damaged blade
Incorrect speed or feed
Insufficient blade support
Incorrect tooth pitch
Insufficient coolant
Solutions:
Replace with new blade
Increase speed or decrease feed
Move guide arms as close as possible to the work
Use finer pitch band saw blade
Check coolant flow
Problem 11: Wear Lines, Loss of set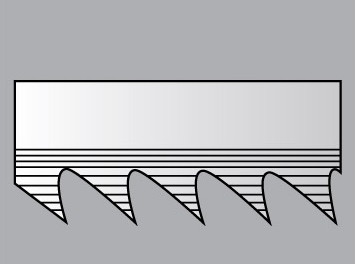 Cause of the Problem:
Saw guide inserts or wheel flange are riding on teeth
Insufficient blade tension
Hard spots in material
Back-up guide worn
Solutions:
Check machine manual for correct blade with
Tension blade properly
Check material for inclusions
Replace guide
Problem 12: Twisted Blade- Profile Sawing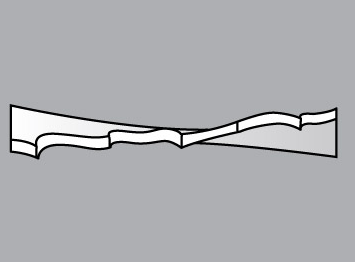 Cause of the problem:
Blade binding in cut
Side guides too tight
Radius too small for blade width
Work not firmly held
Erratic coolant flow
Excessive blade tension
Solutions:
Decrease feed pressure
Adjust side guide gap
Use narrower blade
Check clamping pressure
Check coolant nozzles
Decrease blade tension
Problem 13: Blade wear- Teeth Blued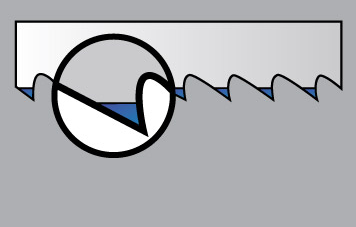 Cause of the Problem:
Incorrect band saw blade
Incorrect feed or speed
Improper or insufficient coolant
Solutions:
Use coarser tooth pitch
Increase feed or decrease speed
Check coolant flow
Tags: bandsaw blades, bandsaw problems, bandsaws, cutting problems, troublshooing bandsaws
One Response to "Band Saw Troubleshooting"