Be A Work of Art with Wooden Watches by Tense
Be a Work of Art with Wood Watches by Tense
No matter where you are going, arrive in style and be the center of the conversation with handcrafted wood watches from Tense.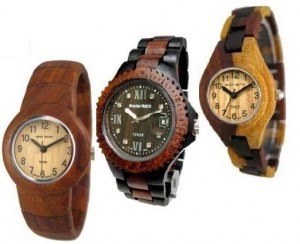 Tense Watches are handcrafted from an exotic natural sandalwood found in Africa, India, and Indonesia.  They use a premium quality Miyota movement from Japan and a Swiss made glass face cover.  The Tense wooden watches are  Quality timepieces unique enough to get noticed and stand out, while maintaining a natural and tasteful look.
The natural materials used to make these watches not only make them very attractive, but lightweight and hypo allergenic which is ideal for anyone who is sensitive to certain metals.  Since each watch is handcrafted from natural wood, no two watches are exactly the same.
When you wear a Tense Wooden Watch, you are truly wearing a piece of art.
Our Sales Manager, Emily Erskine,  has her very own wooden watch from Tense.  When asked what she likes most about her watch she says, "Its fashionable, lightweight, durable.  What else could I possibly want out of a watch?"  Emily has even traveled with it numerous time without having to take if off to go through security.   There's a good chance that other travelers won't have to take off their favorite wooden watches but since airports vary greatly from one another it's hard to say if someone will always get lucky with TSA.
You are sure to get the best discounts on these beautiful watches in our online store! Available in both men and women styles.
Tags: wood watches, wooden watch, woods watch, woodwatch