Holiday Gift Ideas
It's most wonderful season of all, but it can sometimes also be the most stressful.  Don't worry, we have a gift buying guide for all the woodworking and tool enthusiasts that are on your list this year.  The best part, we'll save you some cash and help you avoid the crazy lines and tug-a-wars over this years most popular gifts.
Just take a look at some of our top suggestions that are sure to be on any DIYer's list this year.  You are just a few clicks away from getting those hard-to-shop-for people checked off your gift list.
1. I have too many clamps…  Said no DIYer  EVER!

We have great deals on Clamps from Bessey Tools or Woodpecker.  These clamps are sure to make working on his next project a breeze.  Everyone knows when working on bigger projects, 4 hands are better than two.  Clamps will help him or her finish projects faster and with ease.   Give the gift of Bessey clamps to help free up his or her hands and time.  We recommend our most popular selling Bessey clamps- The Bessey K Body Revo Jr, starting at just $63.11* for a pair.
*These are current prices as of Dec 2015.  prices may vary over time.
2.  Give 'em a hand, or protect the ones they have…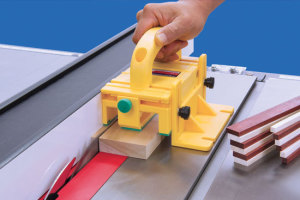 Give your favorite woodworker a cutting edge on all his/her woodworking projects while keeping them safe with Micro Jig's Push blocks.  Micro Jig makes the most innovative products that give more precise cuts while keeping the user's hands safe from sharp and dangerous woodworking equipment like table saws and routers.  If the person on your gift list is an avid woodworker, then Micro Jig's push blocks are sure to be on their wish list.  Micro Jig GRR-Ripper push blocks are starting at $24.95* or upgrade to the 3-D Push Block system with advanced features for only $59.00*.
*These are current prices as of Dec 2015.  Prices may vary over time.
3.  If there's not enough room in the tool box, then It's probably just time for a bigger toolbox.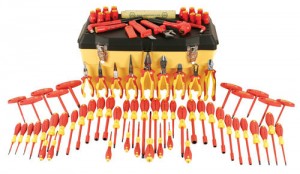 If the person on your list is a tool enthusiast, they would probably agree with the above statement.  Give them a gift they'll love and shop our Wiha Hand Tools.  Save on all hand tools like screwdriver sets, wrenches, socket sets, pliers, cutters, and hex keys.  All our hand tools are made from quality steel, are ISO certified and guaranteed to last.  Give tools your loved ones can count on as much as you count on them.  Psst…  Shop our Sale Section for great prices on great tools that will have you and them grinning from ear to ear.
4.  "That's not a knife, This IS a knife"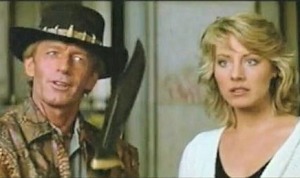 If your giftee shares the same warm fuzzy feeling for sharp objects as Crocodile Dundee, then a SOG knife may be right up his alley.  SOG is located in Lynwood, WA and makes absolutely incredible knives and multi tools.  SOG got their start by making knives for the Navy Seals and Special Forces.  They have greatly expanded their line of knives for use in hunting, tactical and outdoors.  If there is someone on your list that's a fan of the outdoors, outfit them with a SOG Knife or multi tool.  Want to make it even more special?  Get your tool engraved with their name or a special message just from you.
5.  Eat my dust…  Saw dust that is.

If there is someone on your list that spends a great deal of time with his router or table saw, he might really enjoy a new Router Bit set or Saw Blade.  Save on American made Router bits and router bit sets that will keep them happily making their woodworking plans come to life.  Or bring new life to his table saw by getting him a brand new saw blade.
For a limited time only and while supplies last, get the Exclusive Essential Whiteside Router Bit set- Only from Carbide Processors.  We have teamed up with Whiteside and asked them what the most essential router bits are.  We've put together a set with the 3 most commonly used router bits and thrown in a durable and convenient case so that we can offer you the best price on these essential bits.  Whether the woodworker on your list is a novice or a seasoned professional, they are sure to enjoy this great set with their most essential "go-to" bits.  Save on our Exclusive Whiteside 411 set while supplies last.
6.  Needs more Power…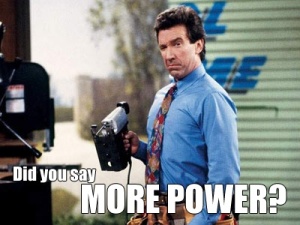 Is there a tool lover that can't get enough power on your list this year?  Give them a Power Tool from Triton.  Triton Power tools makes award winning routers, laser-guided circular saws, cordless drivers, and more.  The Triton 20V Impact Driver will satisfy the Tim the Toolman Taylor inside anyone on your gift list and will complete all his DIY projects inside and out.  Choose from many other great Triton Power Tools all at very competitive prices.


7.  Seeing Red…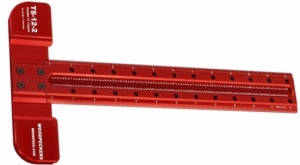 If precision and quality are at the top of the list then you can't go wrong with Woodpecker's router Accessories.  Woodpecker's precision Squares and layout Tools are precision ground on state-of-the-art machinery using aircraft grade aluminum steel and anodized in Woodpecker's trademark red coating for superior tool protection.  Woodpecker's has a great variety of router accessories that any woodworker would love to get their hands on.  Choose from router lifts, clamps, layout tools, and other innovative products.  If it's Woodpeckers, then they'll know it's quality.
We've paired some of our favorite brands into unique Holiday packages and discounted them for a limited time.  Check out some of our signature Holiday Woodworking packages containing all the best brands like Woodpecker, Whiteside and Micro Jig.  Shop our Holiday packages here
If you are pretty crafty yourself, why not make something.  Gifts made by you are always extra special.  Anyone will appreciate the time and thought that went into it, even if it looks like this…