Introducing the Newest and Greatest One-Time Tool from Woodpeckers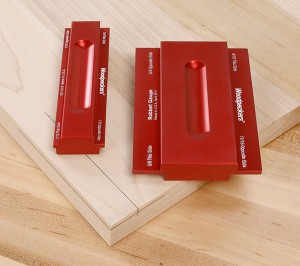 Introducing Woodpeckers newest One-Time Tools, three different Rabbet Gauges. What's a rabbet gauge? It's a tool designed to help woodworkers layout rabbets before cutting.
Rabbets are most commonly created with a table saw or router. Most often they're cut with router bits that have bearing guides for setting one dimension. Straight bits or saw blades on the other hand have the advantage of allowing you to create any size rabbet you might need.
In either case at least one of the dimensions are reached with a series of trial and error cuts. A better way is to accurately mark off where the finish cuts should be. That's where the Rabbet Gauges come in.
With these tools it's very easy to scribe a line on both faces so you have a target to shoot for. In fact if you use a scribing knife you can reduce chipping along the edge. A pencil mark is also a very nice marking option. The trick when using these gauges is to stop your cut just short of the pencil mark. Keep in mind that the steps in the gauges are exactly the finished dimension so the cut should be just at but not into the pencil line.
Three different sizes are available,
| | |
| --- | --- |
| ITEM # | RABBET SIZES |
| RG-1614 | 1/16, 1/8, 3/16, 1/4 |
| RG-51612 | 5/16, 3/8, 7/16, 1/2 |
| RG-91634 | 9/16, 5/8, 11/16, 3/4 |
No matter if you are scribing or drawing the line, the Woodpeckers Rabbet Gauge makes rabbeting much easier. By providing an accurate, consistent and easy to maneuver gauge for one of woodworking's most common operations, you're sure to get plenty of use from these fine American made tools.
Each gauge is precision machined from a solid block of aluminum then anodized for durability and engraved with rabbet dimensions. Please keep in mind that these are One-Time Tools and can only be ordered up until midnight Monday April 11th. Tools will ship after May 23rd.
Tags: layout tools, rabbet gauge, Woodpeckers tools, woodworking supply