Keeping your toolholders safe and secure
You've invested a lot in your CNC tooling and cutting tools.  You have taken the time and spent the money to ensure that you will have precise tooling you can count on for your production.  When it comes to precision tooling, even the slightest deviation in the tools integrity can really make a difference on the end project or the life of your cutting tools.  The last thing you would ever want is for your quality toolholders to get damaged, or even worse, lost or stolen.  So how do you ensure that your investment of precision CNC toolholders stay safe?  Carbide Processors has you covered with a wide range of Huot CNC Tool scoots to keep your CNC holders and cutting tools safe and secure.  Whether you have 30, 40 or 50 taper toolholders, HSK 63A or 100A Toolholders or BT Style Toolholders, Huot's Tool Scoots have tool-holding shelves to fit a large range of toolholder styles.
With so many options, it may be hard to decide which tool scoot is the right one for you.  Here is a quick guide to finding the right tool scoot to keep your CNC Tool Holders safe and secure.
The Original Huot Tool Scoot: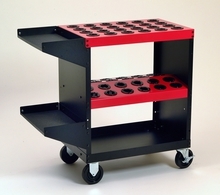 This Huot Tool Scoot holds up to 48 toolholders and is built from 16 and 18 gauge cold rolled steel.  This tool scoot has 5″ casters that can hold up to 1,000 pound load.  And at 75 lbs, it's light enough to scoot around you shop keeping your toolholders just where you need them.  The Huot Tool Scoot has a flat top shelf with lower angled shelf for easy tool access.  The shelves feature solid, interlocking side panel construction for maximum strength and stability.  This Huot Tool Scoot also features two end storage trays with universal mounting holes for a toolholder vise.
The Huot TriScoot: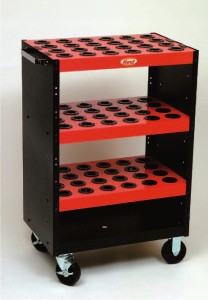 The Huot TriScoot holds up to 72 toolholders and is the perfect upgrade if you are looking for just a little more storage.   Built with the same 16 and 18 Gauge Cold Rolled Steel as the Tool Scoot, the Huot TriScoot offers the same stability with more Toolholder storage.  The TriScoot is built sturdy and tough with 5″ casters that have a load rate of 1,000 pounds.  Along with more toolholding power, the TriScoot has 3 flat shelves that can be configured in 8 different positions allowing you to customize the shelf heights to your own personal liking.
The Huot ToolScoot Tree: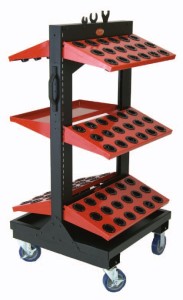 The Huot ToolScoot Tree offers even more toolholder storage and more flexibility.  Get storage for up to 90 Toolholders and up to 1,600 pounds of load rate on rugged 5″ casters.  The ToolScoot Tree has 5 toolholder shelves plus one utility shelf that can be positioned flat or at 20 degree angles.  The shelves can also be positioned at various height levels, giving you up to 70 possible options to customize the configuration of your tool scoot.  Just like the other Huot Tool Scoots, the ToolScoot Tree is made ruggedly tough from 16 and 18 guage cold rolled steel and weighs 160 pounds.
The Huot SecurityScoot: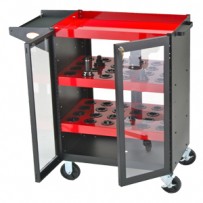 For ultimate toolholder safety and security, check out the Huot SecurityScoot.  Now you can store, organize, and lock-up your toolholders all in one unit.  It is much like the original Huot ToolScoot, but has locking clear poly-carbonate doors on both sides to secure your toolholders.  The Huot SecurityScoot holds up to 48 toolholders and has 2 toolholding shelves that can be adjusted to 7 different mounting positions.  On top of the SecurityScoot is a utility tray.  The SecurityScoot is made from sturdy 16 and 18 gauge steel construction and has 5″ locking casters.  Huot Security Doors can be ordered separately and added to any Huot ToolScoot for added security.
The Huot SpeedScoot: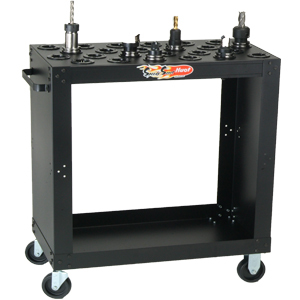 For more easy maneuvering of your toolholders, try Huot's SpeedyScoot.  This lightweight and very mobile Toolholding scoot can hold up to 24 toolholders.  It comes with 1 flat top shelf, but has the ability to add more shelves if needed.  It's sturdy and narrow build allows you to move it quickly and easily around your shop.  The Huot Speedy Scoot is 15″ wide, built from 18 gauge cold rolled steel, and has 4″ casters that can hold up to 1,000 pound weight load.
For Ultimate heavy duty construction and Maximum toolholding capability, Huot offers the SuperScoot and Ultra Scoot.
The Huot SuperScoot: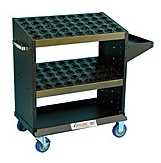 The Huot SuperScoot holds up to 90 toolholders on the ruggedly built structure made from 12 gauge cold rolled steel.  The 5″ casters can take up to a 1,600 load.  The SuperScoot has 2 toolholding shelves that are mounted at 13 degree angles for easier toolholder access and can be configured in up to 8 positions.  It's outrigger design give it improved stability and easier maneuverability.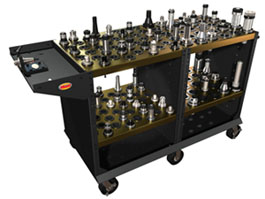 The Huot UltraScoot:
The Huot UltraScoot is the grand-daddy of tool scoots.  Offering storage for up to 176 toolholders, and built from 12 gauge cold rolled steel, you really are getting the ultimate toolholding storage.  The UltraScoot features 4 flat shelves that can be configured in 22 possible positions.  It also features an extra large side tray.  The four swivel and two ridged 6″ x 2″ Casters keep this rugged unit mobile and can hold up to 7,200 pound weight load.  For the absolute maximum stability and toolholder storage, the UltraScoot is just the scoot for you.