Organizing your workshop
It's beginning to look a lot like spring, FINALLY!!  Spring is a great time to get rid of some of that clutter and get things a bit more organized.  I've scoured various forums, sites, and pins and have compiled a list of some great tips on how to get your shop more organized.  And just think, with all the new space you'll have in your shop, you'll have plenty of room to store more new tools. 
Sure, some of you may be thinking… "screw organizing".  I actually thought that was a great idea myself.  Here is a great way to organize all those different size screws and other small parts while keeping them handy and accessible.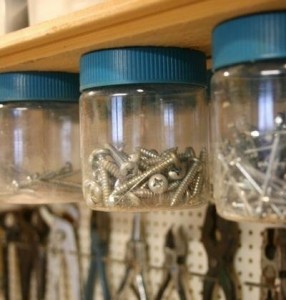 Off the wall organizing
If space is tight, finding ways to utilize your wall space for storage can be a huge benefit.  Using peg board is one way to give you a lot more vertical storage.  Here are a few more.
The flip through tool rack hangs on the wall and gives you quick and easy access to a great number of tools without taking too much space.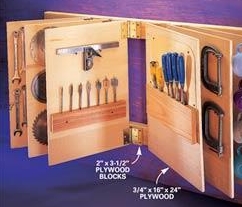 You can find the plans to make it on The Family Handyman Website here.
Insulating foam can also be a handy way to keep tools easily accessible.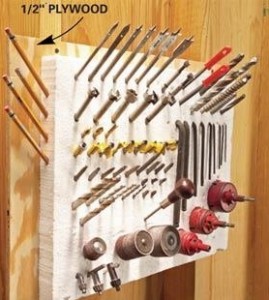 You can never have too much Peg board
Peg board can be used on more than just the walls.  You can use it on the inside of cabinet doors where you already have storage space created.  Below is a clever way to use peg board on your work bench.  The frames of the work bench also give you a great place to store that extra lumber.  You can also modify this version a bit and make cabinets in the front and use the inside of the workbench for more tool storage.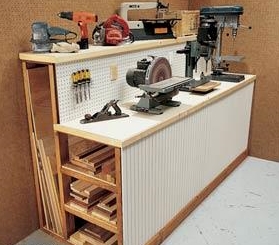 Here is a great solution to organizing and storing your band saw blades.  Just label a large butterfly clip and hang them up out of the way.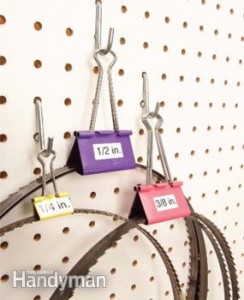 PVC pipe can be a tidy shops best friend.
Use PVC pipe to holster some of those tools and keep them hung up and out of the way.  Or drill holes in the pipe and use it as a tool rack.  There are many different ways you can use PVC pipe to organize your shop. 
Happy Organizing!
Tags: Workshop organization