Protecting Panel Boxes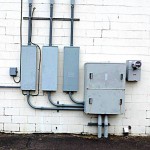 I came in Monday to find my outside electrical panel boxes open.  Three of them had the padlocks ripped off.  The fourth had both panels taken off and thrown on the ground.
All they took was some ground wire and the copper ground stake.  Electrician estimates about $200 to repair.
I was very lucky that we were able to operate with no problems.
2 Responses to "Protecting Panel Boxes"