Review of Wood Whisper's Iphone Woodworking App
Can't get enough woodworking?  There's an app for that.
We recently downloaded The Wood Whisperer App for ipod and have been playing with it around the office, because we're pretty big nerds.  Turns out it's pretty cool!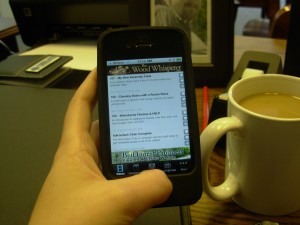 It's a pretty basic iphone revamp of a blog.  The videos, articles, and project are all on there, in the slightly more adorable, tiny, iphone version.  It's well made and easy to navigate, and is a whole lot of woodworking expertise for your pocket.  Plus it's free!  We like free.
Unfortunately we couldn't find a version for ipad, which would have been nice since watching tiny videos for an extended period of time is sometimes frustrating, but that's a bit of a nit pick.
I would like to note that this is also an awesome opportunity to view some truly excellent nerdy tshirts.  If you're not familiar with Wood Whisperer you may appreciate the series of awesome clothing.  Yoda? Gi-Joe?  Very awesome.  Is that a flash t-shirt? Well done, sir!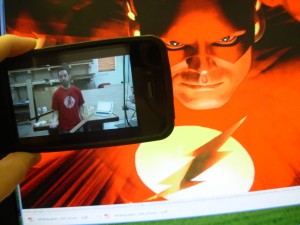 It can be a little difficult to navigate.  It's really a list of videos, announcements, and podcasts for your entertainment.  The Wood Whisperer website itself has a handy-dandy search feature that makes it easy to find what you need.  The limited space of the app means there's no way for you to really have a search. If you have a question you need answered or a problem you need solved this app really won't help you.  If you're at the hardware store and need to find that one piece or tool you saw Wood Whisper mention just the other day you might be out of luck too, unless you're willing to do some digging.
It does have a convenient list of projects under More, so if you're willing to poke around a little you can find what you're looking for. If you're browsing for a new woodworking project or just need your fix of woodworking or novelty shirts, this app is great.
Tags: App review, Iphone app tools, Iphone app wood, Wood Whisperer, Woodworking apps, Woodworking blog