What to do with Scrap Wood
After you have finished a woodworking project, you may find that you have a lot of leftover scrap on your hands.  Don't just toss it out!  I have scoured Pinterest and other sites in search of  clever uses for that leftover scrap wood.  With a little imagination, that scrap could be your next treasure.
Use your leftover scrap wood for small projects like planters, bowls, pens, or bud vases.  Create beautiful segmented pieces by piecing together many scrap to make a uniquely patterned cutting board, bowl, or art piece.   Take a look at some of the projects below and get some inspiration to create your own scrap wood project.  We'd love for you to share your project with us and let us showcase it on our Woodworks page.
If  you haven't purchased a push block (like Micro Jig's Push Block or 3D Push block), use your old scrap wood for a makeshift push block.  Scrap wood is also great for creating jigs.  If you have Woodpecker X-Mat System, a piece of scrap wood can be paired with Woodpecker's X-Mat anchor to create a handy shop-made jig.
Use small pieces and put them together to make beautiful segmented pieces like the cutting board and bowl below.  This is great because it allows you to salvage even the smallest pieces scrap and can create really unique looks and patterns.
Create tool holders or containers for office supplies and things around the house.  Use it to hang tools around your shop, or add hooks and hang keys or coats by the door.  Scrap wood can be great for creating things that help you optimize space or organize tools and supplies.  See some of the creative ways scrap pieces of wood were used to organize tools and supplies below.
Fasten pieces of scrap wood on the wall and add hoods or nails to hang your tools on.  Or add hooks to a piece of scrap wood and hang by the door to use as a key holder.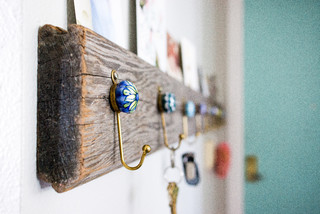 Try this idea for a pencil holder or make-up brush holder.  Use different size drill bits to drill holes into scrap blocks of wood to create a unique holder for all your office supplies or for make-up brushes, etc
If you don't have quite enough small pieces to create a segmented masterpiece, try turning those small pieces into a pen, bud vase, toy blocks or jewelry.
For longer or larger boards, make a handy step stool or planter box.  They make great gifts and look great outdoors or indoor.  With a little paint and a lot of sanding, you can get creative and make a fun and unique end table.
When it comes to wall art and décor, your imagination is the limit.  A little paint and glue and some scrap wood can be used to express your own personal style or create unique gifts for friends and family.  Using scrap wood for art projects is a great way to introduce your kids or grandkids to woodworking in a safe and fun way.