Woodworking Joints
There are many different types of Woodworking joints.  In this blog post you will find a list of Woodworking joints from strongest to weakest, the common uses for each and the tools needed to make these joints. 
Mortise and tenon joints: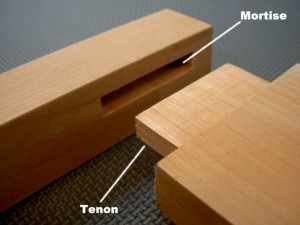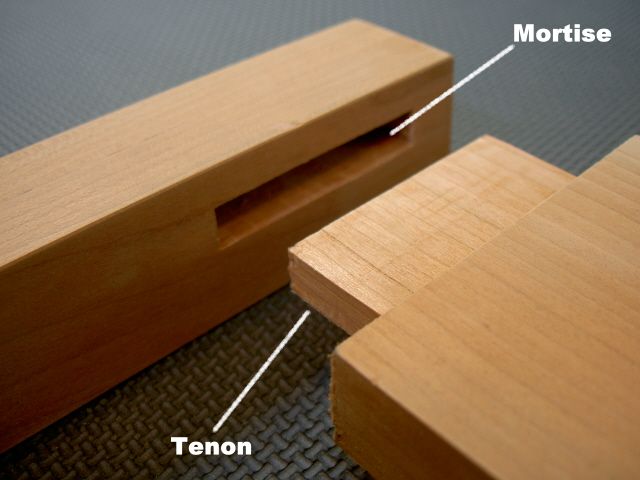 A mortise and tenon joint is made by cutting a groove (or a mortise) in one board and cutting a "tab" (a tenon) in the board that is to be joined.  The tenon is inserted and into the mortise to fit the boards together.  Mortise and tenon joints can be very strudy and is often used for framing, cabinetry, doors, drawer fronts, and windows. 
You can purchase Mortising bits to make clean and accurate mortise cuts.  Tenons can be made with various types of router bits or saws.
Tip: Only half the width of the piece being mortised should be used to make the mortise-tenon joint.
Dovetail Joints: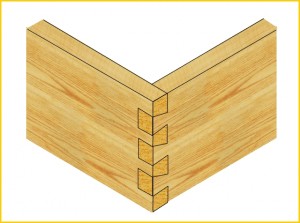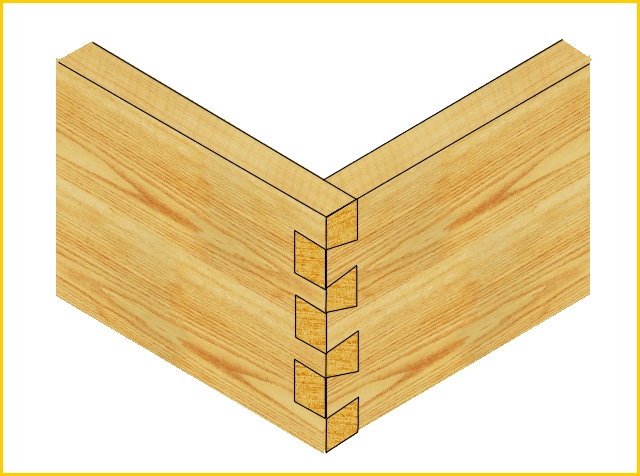 Dovetail Joints are made up of alternating tenons and grooves that narrow and then become wider, giving them a dovetail shape.  Dovetail joints provide a very strong joint and give great strength making them ideal for drawers.   Dovetail joints are also often used for cabinets, shelves, and boxes.
There is a wide variety of dovetail router bits that can create variying sizes of the mortise and tenons needed to create strong dovetail joints.  You can find great deals on quality dovetail bits for your Incra or Leigh machines.
Box Joints (or Finger box Joints):


Much like Dovetail Joints, Box Joints are made up of alternating tenons and grooves on each of the boards that are to be joined.  Box joints are one of the strongest joints for producing rectangular structures.  Box joints are most commonly used in making boxes and drawers. 
Whiteside Machine makes a Fine Finger Joint router bit that will make both the grooves and the tenons with one tool.   
Lap Joints: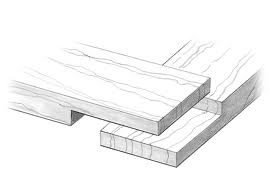 Lap joints are made by cutting grooves into two boards, and fitting the two boards together at the grooves.  Lap joints are eady to construct anc can be cut by hand or with a machine.  A variation of the Lap joint is the Half-Lap Joint, which can be made by cutting away half the thickness of each board and overlapping the boards to make the joint.  Half-Lap Joints are very popular because of their ability to resist stresses in multiple directions.  Both Lap Joints and Half-Lap Joints are often used in egg-crate type of assemblies or projects requiring separators.
Dado Joints:
Dado Joints are made by cutting a slot (or Dado) into one piece of wood and the joining piece of wood into the dado.  There are several different types of dado joints.
Through Dado Joints are joints where the inserted board is visible on both the outside edges of the outside board. (see Picture below)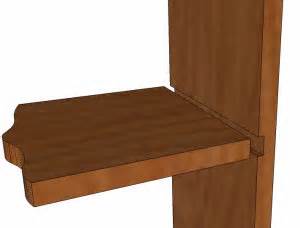 Stopped Dado Joints are when one side (or both) are stopped short of the edge of the outside of the board.  (see picture below)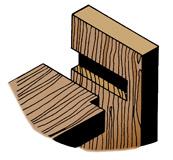 Rabbeted Dado Joints is where a ledge is cut into the inserted board and fit into it's corresponding slot.  (see picture below)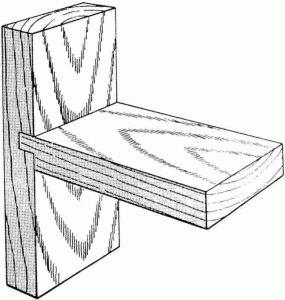 Dado Joints are most commonly used when making shelves, bookcases, etc.  You can make a nice clean dado cut in many different sizes with a Dado Set.
Miter and Rabbet Joints: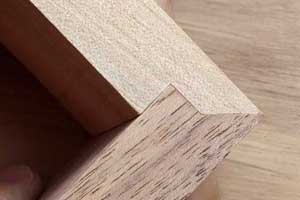 Miter Joints and Rabbet joints are often combined to create a corner lock joint for drawers and box corners.  You can find qualilty Rabbeting router bits, Miter Lock Router bits and even Corner Lock Router Bits (also called drawer lock router bits) that will help make creating these joints easy.
These types of joints are often used in drawers and boxes.
 A standard Rabbet Joint is a where there is a ledge cut onto a board and another board is fitted onto the ledge.  Rabbet Joints are typically stress free joints and are common in bookshelves and bookcases.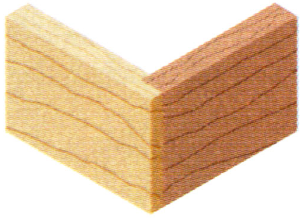 Miter Joints
Miter Joints are butt joints that are cut at an angle.  There are several variations of Miter Joint including compound miter joints and lock miter joints.  Miter joints are most often used when constructing door casings, cabinet trim, frames and boxes.  Miter Joints can be made stronger by adding a dowel or spline in the joint.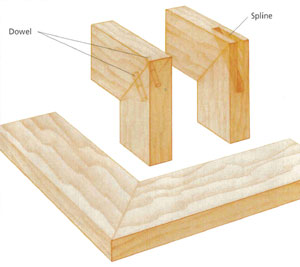 Biscuit Joints
Biscuit Joints are made by creating a slot in one piece of wood and creating football-shaped plate of pressed wood to insert into the slot and join the two pieces.  Biscuit joints are great for helping to align the wood, make glue-ups, and add strength to the joint.
Biscuit Joints are often used with Butt joints and Miter joints to add strength and help with alignment.  You can get both 1/4″ shank Biscuit joining kits and 1/2″ shank biscuit joining kits manufactured by Whiteisde Machine.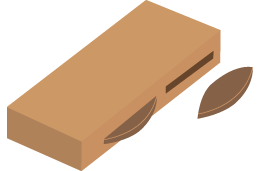 Spline Joints
Spline Joints are made by cutting slots into the two boards you wish to join and fitting a separate piece of wood, sized so that the boards touch, into the slots.   Spline joints are often used to reinforce butt joints or to ease alignment.  Slotting router bits can aid in making the slots for this type of joint.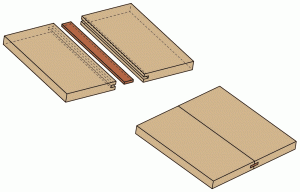 Butt Joints and End-Grain-to-End-Grain Joints are the weakest, and usually require splines, biscuits or some type of glue or fastener.  They are used simply to create a longer or wider piece of wood.  Butt Joints are created by joining the wood from edge to edge and give a wider board.  End Grain Joints are created by joining the wood from end grain to end grain and are used to make longer boards by joining small boards together.
Tags: biscuit joints, box joint, dado blades, dado joints, dovetail bits, dovetail joints, fine finger joint, miter joints, Mortise bits, mortise joints, rabbet blades, rabbet joints, slotting router bits, tenon joints