Brazing Flux- New SMART Flux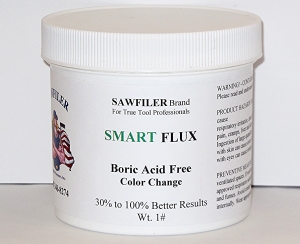 SMART Flux: new, advanced, cleaner and a great price.
The new SMART Flux an environmentally conscious flux that has color changing technology. SMART Flux is boric acid free which complies with the new EU Community REACH regulations on hazardous chemicals. The absence of boric acid reduces the amount of water absorption from the air resulting in less clumping.
This green colored flux alerts the user that the brazing process has reached active temperature at about 800°F when it changes to a light blue or clear. SMART Flux has an extremely wide active range, 800°F – 1600°F.
Extremely fluid, SMART Flux will penetrate the tightest joints. Consistency remains smooth with very little separation when stored. It can be heated using torch, induction, furnace, resistance, dip and other methods.
**Availiable in powder or paste!
SMART Flux will get the job done right the first time, while being kind to the environment.
Boric Acid Free
Complies with AWS and International Standards
Color Changing Technology
Remains Smooth when Stored for Long Periods of Time
Wide Activation Range
For additional information on our standard Black, White, MEGA and Purified Flux please visit our website. If you are unsure if SMART Flux is right for you or your application, we would be happy to send you a sample. Just comment below your information and we will send it out to you.
Tags: Brazing, carbide, Flux, Silver Solder