Carbide Processors – Whiteside Essential Router Bit Set 1/2 Shank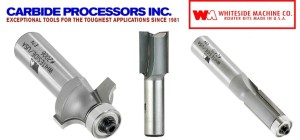 Carbide Processors has teamed up with Whiteside Machince Co., better known as Whiteside, to bring you an exclusive new woodworker set! You will not find the Carbide Processors' Essential Woodworking Set 411 anywhere else. This set was created to meet the needs of all woodworkers, from novice to seasoned experts.
This Essential Woodworking Set 411 consists of the three most popular Whiteside router bits for wood applications.  The set includes
1. 2006– 1/4in Radius Roundover bit: Carbide tipped, ideal for decorative edges, lower depth setting for joints & molding
2. #1084– 3/4in. Diameter 2 flute straight bit: Carbide tipped, plane edges, cut grooves, rabbets, slots, and dadoes
3. 2405– 1/2in. Diameter 2 flute Flush Trim bit: Carbide tipped, trim laminates and pattern routing
About Whiteside-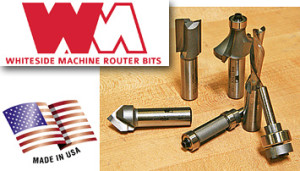 For over 40 Years, Whiteside has consistently produced superior cutting tools, which has given them a name recognized for quality and dependability. American Made Whiteside router bits typically rate number one for both quality and value in Magazine reviews. These top end router bits are beautifully balanced and prevent 'potato chipping'.  Whiteside uses thick pieces of high quality micro grain carbide so that it keeps a sharp edge and can withstand extra sharpening. Held to strict tolerances, you will never have to worry about consistency in cuts and performance. Read our previous article on the beginning-to-end process of the life of a Whiteside router bit.
Don't just take our word for it, click here to read Brian Kent's review from Sawmill Creek! He was on the look-out for an American Made router bit to create a custom high-chair for his grandson. After doing research he narrowed his choice done to 2 types of Whiteside router bits: bowl and tray & round nose core box bit. Unsure of his decision he posted his dilemma on Sawmill Creek.
That's when we stepped in and offered to contact Chris at Whiteside for his recommendation. He recommended the Whiteside 1376B and 1411 for this special project. Tom saw this as a wonderful opportunity for a Tool-Review so we offered to send him both bits for free if he would let us know how they performed. Click here for the pictures and final outcome of Brain Kent's project!