Whiteside Router Bit Review- #1376B
Brian Kent, a grandfather posted to sawmill creek asking for recommendations on Whiteside router bits to build a custom high-chair for his grandson. He couldn't decide if he should buy a bowl and tray bit or a round nose core box bit.
Tom saw this as a wonderful opportunity for a Tool-Review! We spoke with the head technician at Whiteside for his expert opinion for the selection of bits needed.  Chris recommended the Whiteside 1376B and Whiteside 1411.
We contacted Brian and offered both Whiteside bits free of charge  in exchange for an honest and un-biased review. He accepted our offer graciously and got to work! This is an excerpt from the review published on sawmill creek of the Whiteside 1376B used for his grandson's high chair!
—————————————–
"First of all, many thanks to Tom Waltz, who sent me 2 Whiteside router bits to test:
1376B Bowl and Tray Bit (reviewing now)
1411 Round Nose Core Box (trying and reviewing later)
First of all, I am very grateful for Tom's kindness. I started using Whiteside bits after the 2007 Fine Woodworking comparison. The Fine Woodworking test named Whiteside Best Overall and Best Value. I buy them whenever I have a choice. As a hobbyist, I have not worn any out or seen any degradation in performance in any of my Whiteside bits.
The 1376B Bowl and Tray Bit looks and feels substantial. It has a bearing the same width as the bit – 1-1/4″. Shank is 1/2″. Radius on the edge is 1/4″ so it has a flat cutting spot of 3/4".
The only challenge I experienced was that the bearing starts about 5/8″ from the cutting end. My template was made from 1/4″ ply so I started with a plunge cut near the middle of the piece. The router was mounted on a 16″ x 6″ piece of ply so it could ride the edges of the highchair tray template.
I began with a deep cut because the bearing was so high. I was very happy with the lack of tear-out. This is Beech wood, which has given a lot of tear-out with sharp lathe tools.
I did a couple more passes with a very slight increase of depth. I was very satisfied with the smooth finish. I started sanding at 150 with a ROS.
I'll round off the outer edges after re-sawing about a half inch off the back."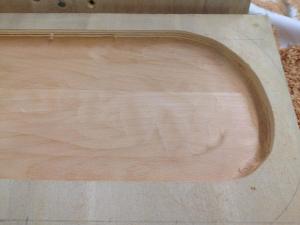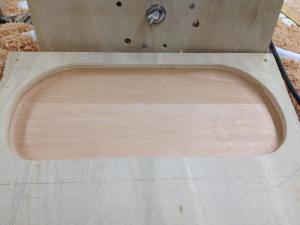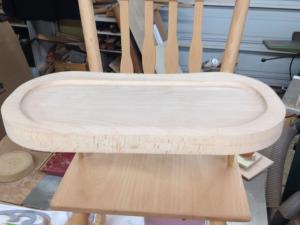 —————————————–
Stay tuned for Brian's review on the Whiteside 1411 for his next project!
Tags: carbide bits, highchair, quality router bits, router bits, Whiteside router bits, woodworking