Allen Wrenches
I found this old set of Allen wrenches. I'd forgotten I even owned it. I was rooting through some old tools looking for stuff to give my grandson Max for his fifth birthday. 
These are genuine Allen wrenches made by the Allen company. The Allen company has trademarked the name so we can't sell Allen wrenches instead we sell hex keys, and hex wrenches, L wrenches with hex heads, T wrenches with hex heads and so on from Bondhus or Wiha.
 When we decide what tools to sell we think about the guy whose boat is broken down out on the water.  We think about the farmer out in the middle of the field or the maintenance man who is working underneath a machine with a production line shut down.  We think about people who own really fine guns or fishing reels or motorcycles or cars.  We want to sell tools that are going to work when people really need them to work.
 These Allen wrenches don't meet that test. You can see in the picture below the end of one of the wrenches where it is rounded off and deformed.  There is another picture showing two bent wrenches.  One is really bent. The other one is just slightly bent so I put a red line underneath it to point it out.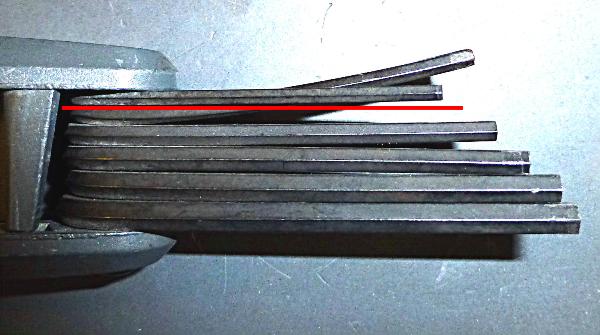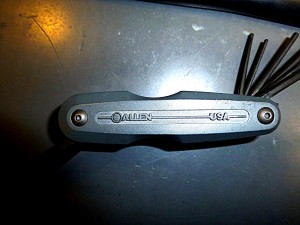 A rounded off tip is going to make it really hard to turn the screw as is a bent tool.
One of the things we also think about is somebody who's working on a really fine piece of machinery or furniture.  What a tragedy it is when a cheap tool slips and puts a gouge in an otherwise beautiful piece.
Cheap tools are cheaper, but We've learned that in the end you usually end up paying more for a cheap tool then you would have if you bought a quality tool in the first place.  Anyone who has been injured by using cheap tools, or ruined a fine piece of work or material from cheap tools knows this first hand.  We only sell tools that we would want to use ourselves, and we only like using really great tools. 
Great tools on sale now- Shop for Wiha and Bondhus hand tools.
Tags: allen wrenches, Bondhus, hand tools, hex keys, hex wrenches, Wiha