Carbide Saw Blade Specification Manual: P.21 Strobe Saws: Cutters
Strob Saws: Cutters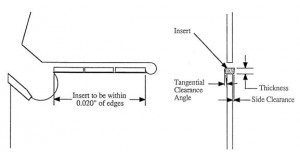 Specification
All design elements of the Strob slot shall be as specified, within the following tolerances:
Recommended            Tolerance
• Material                                Stellite/Carbide
• Insert Hardness                                                        ± 1 Rockwell
• Width                                   Kerf-0.010″                 +0.000″ / -0.003″
• Thickness                              1/8″ nominal                before brazing
• Side Clearance                      Equal                           ± 0.002″
• Tangential Clearance            2 Degrees                    ± 1 Degree
Verification
Hardness. Hardness testing requires a bench type instrument with a Rockwell "A" indenter and performed by qualified personnel. If equipment is not available, sample tips may be sent to a qualified testing facility, for evaluation.
Width. Measure with a dial caliper.
Thickness. Use a dial caliper
Side Clearance. Use a side clearance gauge to check each insert, on each side, along its entire length.
Tangential Clearance Angle. Use a 0-1″ micrometer with pointed anvils. – see angle equivalent table in appendix.
Tags: custom tools, saw blade, saw blades, sawblades, tool manual