Chapman MFG- American Made Handtools & Sets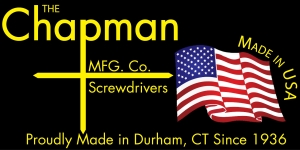 We are happy to announce our new partnership with Chapman Manufacturing (Chapman Tools) located in Durham, Connecticut. John Chapman started the business in his garage during the Great Depression in 1936. Probably not the most ideal time for a new business venture, but through hard work, superior hand tools and outstanding customer service Chapman Tools has become the leader of American Made tools using American Made materials.
                    Jay Leno endorse                                                                                     2014 Employees
Chapman has perfected the  manufacturing process of  precision small screwdriver and bit kits since its conception in 1963. With innovative features such as utilizing micro- manufacturing, tighter working tolerances and non-magnetic materials, Chapman's tools are highly sought after. Customers appreciate these superior Made in the U.S.A. tools as well as knowing that the dollars they spend go right back into the pockets of the American people. As new technology brings more computerization, mico-manufacturing and tighter working tolerances, Chapman tools are highly sought after. All Chapman tools are non-magnetic, hand assembled- inspected and available in different combinations in their tool kits.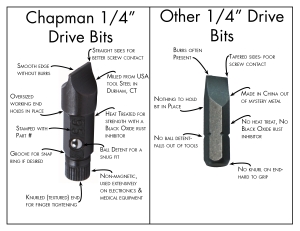 Chapman ¼" drive screwdriver bits, are available in 53 types and sizes including Standard & Metric Allen Hex, Phillips, hollow ground straight sided Slotted, Bristol 6-flute, Reed & Prince/Frearson, Robertson square head and Torx. All are milled from USA tool steel, heat treated with a black oxide finish and are interchangeable with their screwdriver handle and famous offset midget ratchet. Two available extensions add length to the screwdriver handle and ratchet. All Chapman tools are non-magnetic, hand assembled and inspected and available in different combinations in their tool kits.
The beauty of Chapman tools lies in their versatility. The offset midget ratchet provides up to 200 inch pounds of torque (four times the leverage of a large screwdriver) in a tiny space. There's also a screwdriver handle and a spinner top, both of which can be used independently or combined with their 2" or 3 5/8" extension. You can even use the ratchet, screwdriver handle and extension together as a ratcheting screwdriver.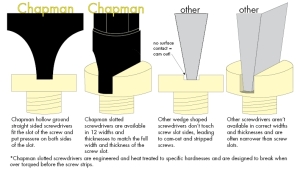 While there are many types of insert bits on the market, Chapman's are reasonably priced and offer exclusive quality features competitors don't. All the bits are stamped with a part number and have a ball-detent, which is a tiny spring and ball bearing that locks the bits into the tools without the use of magnets. The bits have ear stops or oversized working ends depending on size, and all but the Torx bits have knurled ends for finger tightening. Lastly, the bits are heat treated to a specific hardness for each size and are meant to break before damaging a fastener. For example, many gunsmiths rely on Chapman Slotted bits for working on antique firearms with irreplaceable soft, hand cut screws. Chapman tools are engineered and are hardened to specific tolerances to prevent damage when the fastener is more valuable than the bit.
Chapman Sets-
Product Descriptions-
Famous Midget Rachet
*1/4 drive 20 tooth steel gear
*18 degree working arc
*exceeds Military standards for torque specifications
Screwdrivers and Accompanying Bits
*economical screwdrivers with adjustable set screws
*¼" drive screwdriver bits available in 53 types and sizes
*bits are heat-treated for hardness & designed to break before damaging the fastener (gunsmiths)
*made using USA tool steel, heat treated with a black oxide finish
Other Important Information
*all tools are non-magnetic
*interchangeable tooling
*hand assembled and inspected not once but twice
*many combinations offered in tool sets
Chapman manufactures these for:
*assembly
*calibrating & servicing of aerospace
*medical & dental professionals
*imaging
*gauging
*sewing
*sound & robotic equipment
*knives & firearms
***Jay Leno has been a long time user of Chapman tools for his antique cars and motorcycles. About five years ago Jay invited Tracy, the owner of  Chapman out to his garage in Burbank, California to film a short video promoting Chapman tools***
Tags: American made tools, Chapman Manufacturing, Chapman Tools, hand tools, screwdriver sets, tool sets, woodworking