Router Bits and Southeast Tool: Why We Love Them
Jeremy Broun, who Woodworking Magazine called one of the most innovative craftsmen, and who has shown his work at such places as Souterbys and The Royal Society of Arts, wrote a book about his love of routers.  In this book he called routers "the most versatile tool in the world."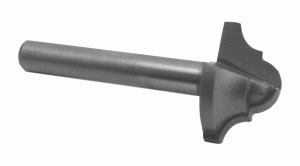 Of course every wood worker already knows this.  Not only is a router a highly effective tool, but it's also unique in its range of uses. It is a tool used for both a completely utilitarian use, and also for a completely aesthetic use.  Often it accomplishes both at the same time.
There are two distinct markets for router bits.  One is the large furniture makers and professionals who need to buy a great deal of durable, long lasting router bits by the hundreds.  The other are the every day handymen and women who need a few or a few dozen. The furniture plant will cut more wood in a day than a hobbyist woodworker will cut in a lifetime.
One of the original goals of the web store was to make really top-end tools, such as these top of the line router bits, available to all consumers from hobbyist to manufacturing plants.  Thanks to people like Chuck Hicks, that is actually going pretty well.
Chuck Hicks is president of Southeast Tool.  Southeast Tool makes extremely good router bits. You may never have heard of them because their primary market is industrial. Their router bits are typically sold by top end sharpening shops.
The woodworking manufacturing industry is very competitive, both in price and performance.  Every cut has to be clean and accurate every time. Southeast Tool does very well in this industry.
There is one problem. Southeast Tool does not spend a huge amount of money on magazine advertising as some other tool companies do.  Instead Southeast Tool sells their quality tools for less money.  So we like to ask the customer to try the tool.
Fortunately the tools are extremely good and, if we can get somebody to run them, then we always have a happy customer.
There is always hesitancy in getting people to try a new tool, especially one without a lot of advertising. This is why Carbide Processors has a 100% satisfaction guarantee on everything we sell.
So why do we love Southeast Tool? The same reason we love router bits.  They're versatile, reliable, and dependable.
Tags: router and router accessories, router bit, router bit set, router bits, Southeast Router Bit, Southeast Tool, woodworking supply, Woodworking tools