Choosing the Right Router Bit
Choosing the Right Router Bit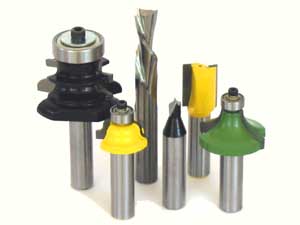 When choosing a router bit, there are several things to consider to get the most value for your money. Here are some tips to choose a quality Router Bit:
Router Bit Shank Size
The shank size of the router bit has an affect on the overall value. Choosing a 1/2″ Shank over a 1/4″ Router Bit may be more beneficial because 1/2″ Router Bits are more sturdy, and less likely to break.
Router Bit Material
There are 3 different materials from which Router Bits are made: High Speed Steel, Carbide Tipped, and Solid Carbide. Choosing a carbide Router Bit over a high steel router bit is usually your best bet to get the most for your money.
*High Speed Steel Router Bits are generally the least expensive and are fine for softwood and light plastics, but tend to dull much faster than carbide.
*Carbide Tipped Router Bits are usually more expensive than the high speed steel router bits, but they stay sharper longer and work better in hardwoods and other hard materials, so they may save you money in the long run.
*Solid Carbide Router Bits are the most expensive, but are typically meant for specific applications where other router bits may not perform as well. You may want to choose a Solid Carbide Router Bit for Mortising, Laminate Trimming, and Pattern Cutting.
Use a Sharp Router Bit
Using a Sharp Router Bit is much safer, cuts better, and requires less power than a dull router bit.
Choosing the right grind
The grind of the router bit can greatly affect the performance.
Maintaining a good balance
Reducing the vibration is very important not only to safety, but to the quality of the cut. Make sure the Router Bit you are using has a good spin.
There are many Router Bit manufacturers to choose from, and it can be hard to know which company makes a quality Router bit. We have been in the industry for a while, and we really like: Whiteside and Southeast Tool. Whiteside is known for their quality, and Southeast is a great value. Both Whiteside and Southeast Tool were ranked in the top 5 and considered excellent by Fine woodworking Magazine in their head to head router bit challenge.
Fine Woodworking Magazine  frequently tests many different Router Bits from a wide spectrum of manufacturers. They assess which company produces the sharpest, most durable and best value router bits. Companies with the top performing router bits receive awards.
We sell the entire line of Whiteside and Southeast Tool router bits at discounted prices.  Feel free to test them out yourself without having to pay full retail. Buy Whiteside Router Bits. Buy Southeast Tool Router Bits. 
Also see "Router Bit Glossary" for more helpful information on Router Bits.
Tags: american made router bits, American made tools, carbide router bits, router bits, woodworking